French IB preparation classes
and
French proofreading service
Get ready to pass your IB with flying colours!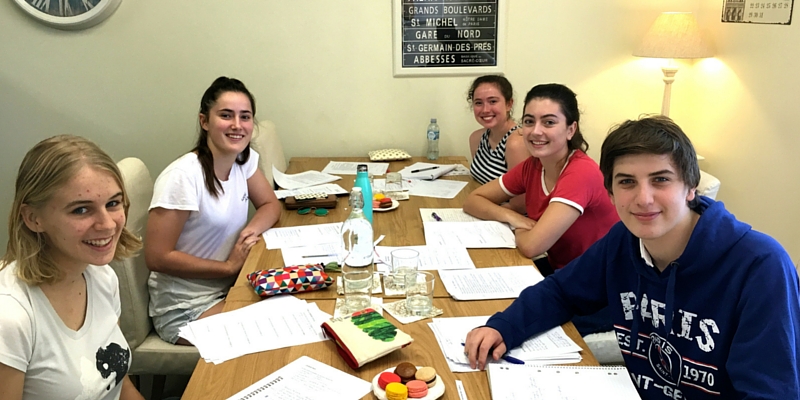 Students will be taught and assisted by Anne and her team of French native teachers who have a wealth of experience teaching IB students. We are all familiar with the curriculum of the International Baccalaureate and have experience working in schools in Sydney. We are helping students from different schools in Sydney such as Queenwood,  Redlands, Monte Sant'Angelo, Ravenswood among others.
TERM DATES 2019 FOR PRIVATE TUITION 
Term 1 runs from 29th January 2019 until 13th April 2019 (11 weeks).
Term 2 runs from 29th April 2019 until 6th July 2019 (10 weeks).
Term 3 runs from 22nd July 2019 until 21st September 2019 (9 weeks).
Term 4 runs from 14th October 2019 until 7th December 2019 (8 weeks).
PROOFREADING COST
We also provide proofreading services. The cost for proofreading IB written tasks is $55 per hour. Materials should be sent via email on a word format. We will provide an annotated version of the text with suggestions and corrections included.
---
FRENCH IB BOOTCAMP
Come and join us during the holidays to get ready for the final run!
There will be no more than 6 students maximum in each class and afternoon tea will be included.
COURSE CONTENT
Monday class will be designed to enhance Writing skills. How to write an introduction, a conclusion, build a plan, using connecting words…
2. Tuesday class will be designed to enrich the vocabulary and practise the interactive oral component.
3. Monday and Tuesday session 2 class will be designed to improve and practise the reading and responding examination with questions on grammar accuracy.
OUTCOMES
Upon completion of this FRENCH IB Bootcamp students will:
Feel more comfortable with the French B examination. (French Ab initio available as workshops)
Improve their general level of French by being immersed in a French-speaking environment.
Gain a personal understanding of the areas in which they need to improve upon before the IB final examination.
Understand the best practice approach to both the Listening and the Reading and Responding part B components.
Have developed more relevant content for the Writing component.
SUITABLE FOR
Year 12 students preparing the French B examination. 
or
French Ab Initio students focusing on specific skills or general revisions.
There will be no more than 6 students in each class.
SCHEDULE FOR SUMMER WORKSHOPS IN JANUARY
Summer  IB French grammar workshop:

on 22nd January 2020

  "Revise the essentials" – grammar revisions to prepare the year 11 (IB). From 1 pm to 4 pm.

Summer French B Boot camp Y12

 on 24th and 25th January 2020

from 9 am to 12 pm.
Summer French B Grammar revision workshop on

25th January 2020

"Revise the essentials" – grammar revisions to prepare the year 11 from French B. From 1 pm to 4 pm.
Summer French IB workshop Y11

on 24th January 2020

 "Revise the essentials" – grammar revisions to prepare the year 11 for French ab initio. From 1 pm to 4 pm
MATERIALS
All class material will be provided.
French morning or afternoon tea included! (please indicate any dietary restrictions when enrolling)
Very small group classes with no more than 6 students per class.
---
OFFICE CONTACT HOURS: Monday to Friday 9.00 am – 5.00 pm
HOW TO BOOK
Please contact us via the contact form below.
Alternatively, you can contact us on 0478 685 461
We look forward to hearing from you!